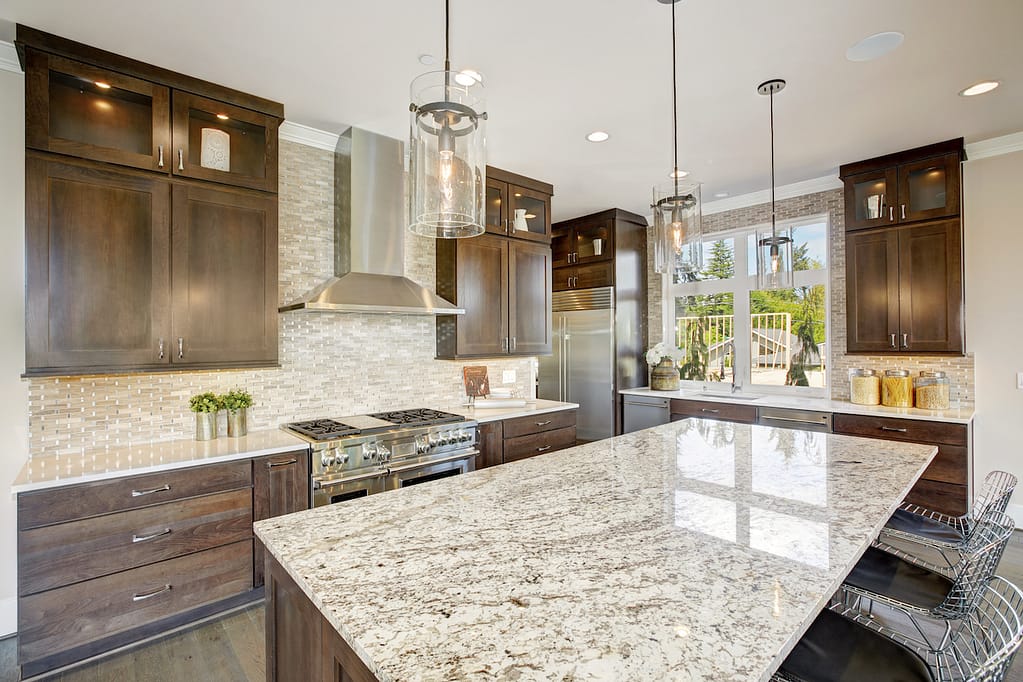 granite countertops installation & fabrication
For decades now, granite has been desired and valued highly by both homeowners and builders. Nothing can transform the look of your home as granite countertops can. Granite is a natural stone that is quarried, cut and polished.
Consequently, no two granite slabs are the same, assuring you that you'll never see countertops that are identical to yours in the home of another person. Henry's Granite has provided superior quality granite countertops and flawlessly-executed installation and fabrication to homeowners in Fort Worth, Texas and throughout the nine counties that we serve since 2016. We are proud to offer you the largest selection of granite colors, patterns and varieties to be found anywhere in the North Texas region. 
Granite colors run the full spectrum from dramatic midnight black to ethereal tones such as Arctic White, as well as all of the colors in between. Henry's Granite has it all in our vast inventory, and if you don't see just what you're searching for, we'll order it exclusively for you! All of our countertops are installed with precision and accuracy. 
To add the finishing touch to your granite countertops, our fabrication artisans craft flawless edge profiles. You can count on Henry's Granite to provide you with the finest granite countertops that you'll find anywhere!
Benefits of Granite Countertops
Granite countertops provide you with a myriad of positive benefits. Granite is an exceptionally hard stone and holds up well to everyday home activities. It tolerates heat well so putting hot pans on top of your granite countertops won't damage it.
Do you enjoy cooking? Cutting and chopping won't damage granite countertops and it resists scuffs and abrasions well. Granite countertops will last for thirty years or more, and installing fine quality granite countertops will increase your property value dramatically. 
Many home design trends come and go, but the elegant, sophisticated beauty of granite transcends the test of time and never becomes outdated. Although granite must be treated because it is a natural stone and is porous, the benefits of granite countertops far outweigh the care that it requires. Not only do granite countertops add beauty to your kitchen, bathroom, entertainment areas and throughout your home, they make your life easier also!
Variety of Granite options
Granite comes in a multitude of colors, patterns, and varieties. Would you like an unusual swirled or speckled pattern? Does a rare granite variety that is rarely seen appeal to your aesthetic nature? 
Henry's Granite has it all, but if by chance we don't have exactly what you're searching for, we see to it that you get it! Contact us today at (817) 402-1759 and speak with our granite specialist and countertop stone experts. With us, you can be sure that your dream home will happen!