There's nothing that will put the attention on your superior quality granite countertops as a bevel edge profile will. This edge profile makes your countertops appear to be thicker and heavier and creates a bold, dramatic design statement. 
Here at Henry's Granite, our highly-experienced fabrication experts are quite adept at crafting perfect bevel edge profiles. Do you want your exceptional quality granite, quartz or natural stone countertops to stand out and demand attention?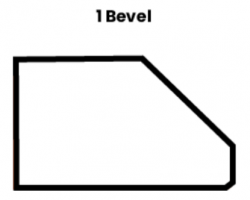 Select a bevel edge profile. If you want for your kitchen island to stand out, choose a bevel edge profile for it and an understated edge profile for the surrounding countertops.
The bevel edge profile angles downward and the very bottom edge is straight to smooth sharp edges. This edge profile adapts easily to all preferred decorative styles and is popular with both homeowners and builders.
what goes with bevel edge granite
The bevel edge profile works perfectly on all types of countertop stones; however, it is a perfect choice for speckled granite patterns or heavily-veined granite varieties so as to showcase the natural beauty of granite. If your countertop stone choice has intense color variations throughout it, put the focus on your stone by choosing a bevel edge profile. This edge profile will never become outdated, as it has been a popular edge profile choice for many decades. 
Do you consider yourself to be trendy and ultra-contemporary? Are you loving the idea of Brown Canyon granite for your rustic, country home? Not a problem with a bevel edge profile! 
No matter what environmental style that you prefer, you can't go wrong by selecting a bevel edge profile. Here at Henry's Granite, we see to it that your fine quality countertops and flawlessly-crafted edge profiles will make you proud and have your friends and neighbors talking about your exceptional new countertops!
contact us for bevel edge granite
Contact us today at (817) 402-1759 and speak with our highly-skilled fabrication experts and our professional designer. Here at Henry's Granite, we understand that selecting your edge profile is often a difficult decision to make. Our family-owned and locally-based company is always available for you and here to answer any questions that you have or assist you in making the perfect choice for you. 
You can count on Henry's Granite to provide you with the finest countertops, flawlessly-executed edge profiles, and the lowest prices to be found anywhere! Henry's Granite makes your dream home happen!