demi bullnose edge profile
Working well with all preferred decorative styles, the demi bullnose edge profile, known also as the half bullnose, is commonly used by builders and is a favorite with homeowners. This simple, smooth edge profile has the upper countertop edges rounding gently downward. It works well on all countertop stone selections. 
This is an easy edge profile for experienced fabrication artisans, like ours are here at Henry's Granite, to craft perfectly; however, the positive aspects of this extremely popular edge profile shouldn't be ignored! Many homeowners select this edge profile for safety reasons, as it has no sharp edges and is perfect for homes with young families or for countertops that tend to have a high level of activity around them.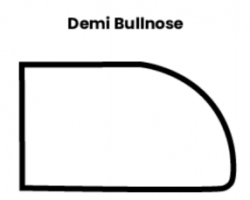 stay stylish with demi bullnose
One of the many positive aspects of the demi bullnose edge profile is that it never will become outdated. The understated elegance and simplicity of the demi bullnose edge profile is that it transcends trends and doesn't attract attention to itself but enhances key design elements within your environment. 
Are there cherished collectibles that you want to display? Is your cabinetry beautifully designed and you'd like to feature and showcase it? More detailed, intricate edge profiles are attention-getters. 
The classic demi bullnose edge profile ensures the attention is where you want it. If your countertop stone is finely detailed, like granite with heavy veining or speckled granite, the demi bullnose edge profile will not stand out and the attention will be on your countertop stone selection. If you are having difficulty trying to decide which edge profile to select, the demi bullnose is always a guaranteed great choice.
demi bullnose edge installation
Since 2016, Henry's Granite has crafted flawlessly-perfect edge profiles for homeowners right here in Fort Worth, Texas and throughout the DFW metroplex region. Our highly-experienced and skilled fabrication specialists are the best to be found anywhere at crafting beautiful edge profiles. 
You can count on Henry's Granite to deliver the finest quality demi bullnose edge profiles for your house upgrades and your home's complete transformation. Our professional designer is here to assist you in choosing the edge profile that is perfect for your home, your lifestyle and your personal needs. Call us today at (817) 402-1759 and speak with our fabrication experts and our designer. Our family-owned company always puts you, our valued customer, first!