Full bullnose edge profile
Unlike the demi bullnose edge profile that is smoothly rounded along the upper countertop edges only, the full bullnose edge profile is gently rounded along the topside and underside countertop edges. 
Do you like the demi bullnose edge profile but want to kick it up a notch? The full bullnose edge profile works well with all preferred environmental styles, is versatile and is subtly elegant and refined.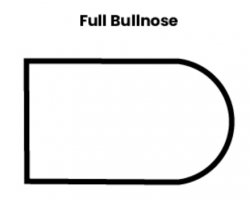 At first glance it may appear to be simple; however, only highly-skilled fabrication specialists like we have here at Henry's Granite are capable of crafting it with perfection. Henry's Granite doesn't just provide and install superior quality countertops! We take care of everything that you need to upgrade and transform your home. The edge profiles that we craft for you here at Henry's Granite cannot be topped!
stand out with full bullnose edge
Curved areas or sharp angles within your kitchen, bathrooms or entertainment areas and living spaces are softened with the full bullnose edge profile. The full bullnose edge profile is guaranteed to put the focus on your stone choice, especially for dramatic stones such as heavily veined marble or colorful, detailed granite patterns and varieties.
This edge profile works well for all design styles because it creates an elegant, refined presence no matter what your preferred decorative style is. For areas such as kitchen islands or bars where there's a lot of activity around them, the full bullnose edge profile is an excellent choice.
The simplicity of the full bullnose edge profile creates a sense of movement and flow throughout your room and leads the eyes to areas of key importance to you. Very versatile, this edge profile works well on the majority of stone varieties. Our fabrication artisans and our professional designer here at Henry's Granite will assist you in choosing the edge profile that is perfect for you and the room that the countertop will be in.
call us for full bullnose
Contact our locally-based, family-owned company today at (817) 402-1759 for all of your edge profiles questions and needs. Since 2016, Henry's Granite has been crafting flawless full bullnose edge profiles for homeowners throughout Fort Worth, Texas and the DFW metroplex area.
Come by our convenient showroom to see in-person fine examples of the edge profile designs and craftsmanship that we offer for you to choose from. Henry's Granite is your premium one-stop resource for superb quality countertop stone and the best edge profiles that you'll see anywhere! At Henry's Granite, we see to it that your dream home happens!