laminate countertop edges
Choosing the laminate premium edge profile is a sure way to draw the attention to your countertop stone slab. The laminate edge profile gives the illusion of a thicker countertop stone slab without incurring the additional expense or added weight to your countertop.
Henry's Granite achieves this visual illusion by adhering to an additional piece of stone along the underside edges of the countertop stone slab.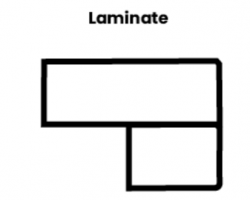 Many homeowners like to select the laminate edge profile for their kitchen island or free-standing bar areas. To make your countertop even more impressive and ensure that it makes a statement, the laminate edge profile can be combined with the bevel edge profile, demi bullnose or the intricate, detailed ogee edge.
what works best with laminate countertop edges
Henry's Granite knows it can be difficult to select your countertop stone edge profile; therefore, we provide you with professional design assistance. Not all stone choices lend themselves well to the laminate edge profile. Because the extra piece of stone must be glued along the very edges of the countertop slab, you can see the seaming when you look closely directly at the sides of the countertop edge.
Because of this factor, it is best to use a darker stone with close veining, pattern variations or speckles. If you select the laminate edge profile for lighter colored stone, it will make it more obvious that an additional piece of stone has been attached. It takes many years of industry experience for a fabrication specialist to perfect, and we here at Henry's Granite take pride in our highly-skilled and experienced fabrication experts.
There's more to it than just gluing on a piece of stone! Precision cutting and measuring are of the utmost importance to ensure that there's no variation along the countertop edges. Henry's Granite uses only the finest quality of glue to make certain that the additional stone pieces are firmly secured and that the sides can be smoothed.
choose us for laminate countertop edges
Henry's Granite is your number one go-to company for the most exceptional quality laminate edge profiles to be found anywhere in Fort Worth, Texas or throughout the nine counties that we provide our service to. Contact us today at (817) 402-1759 and speak with our professional designer and our fabrication experts.
Come by and see us at our conveniently-located Fort Worth showroom and view our fine examples of perfectly-crafted laminate edge profiles up-close-and-personal. Our family-owned company is devoted to providing you with superior quality countertops and flawlessly-perfect edge profiles.
There's no comparison to the quality that we offer you, or service and quality cannot be beaten! You can count on Henry's Granite to craft and install your beautiful new countertops!