There is far more that's involved in having the perfect granite countertops that you've always wanted than just choosing the type of granite that you desire. Once you've made your granite selection, you then must choose your countertop's edge profile. 
The edge profile doesn't just serve a functional purpose by smoothing the rough edges of the granite slab, it is a key design element that expresses your preferred decorative style.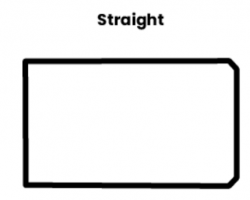 Because different edge profiles convey different environmental preferences, it is important for you to consider what decorative style best expresses your taste, where your countertop will be located and what you'll be using it for primarily. Here at Henry's Granite, our highly-skilled fabrication professionals craft flawless edge profiles. 
The straight edge profile is a popular, versatile edge profile choice, as it works well with all decorative styles and is an excellent edge profile for granite countertops.
Frequently called an eased edge, the straight edge profile is smooth, simple and sleek. This is an extremely popular choice for contemporary, trendy or ultra-modern homes. Although the straight edge profile appears to be completely straight, the underside and topside edges are rounded slightly to prevent scratches or injury that could result from razor-sharp edges.
Euro style countertops, known also as waterfall countertops, always have a straight edge profile to make certain that the focus is on the stone variety that you choose. Are you unsure as to which edge profile that you should select? Do you like the appearance of the sleek straight edge profile but prefer an environmental style other than trendy or contemporary?
That's no problem for Henry's Granite! We are always available for you and happy to assist you in making this difficult design decision! The edge profile that you choose is extremely important, as the right edge profile will unite all of the elements in your room, whereas the wrong selection will leave you with regret. Our professional designer will present to you examples of our perfectly-crafted straight edge profiles so that you can be sure that it is the perfect choice for you.
contact us for straight edge countertop
Whether you need Henry's Granite to fabricate perfect straight edge profiles for your new superior quality countertops or you'd like a straight edge profile on a stunning coffee table, end tables or your fireplace mantel, you can count on us! Contact us today at (817) 402-1759 and speak with our highly-experienced fabrication specialists and our professional designer.
Henry's Granite is your number one resource for the finest edge profiles that are available anywhere! With us, your dream home is guaranteed to come to life!